Dinner example - Our hotel was awarded in the Michelin Guide 2012 -

Steamed egg

Seafood Salad


Sashimi




Sea Urchin

Cooked Fish

Sashimi of Herring


Boiled 'Hairy" Crab

Sea Urchin with Rice


Rare Cheese Cake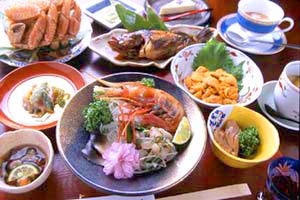 Petit Hotel Corinthian is a gourmet's treat. We offer very fresh seafood including sea-Urchin, crabs, prawn, squid, and of course many different kinds of fish. We recommend you to enjoy the fine meal with Japanese Beer or great wine collected from all over the world. There are many repeaters to come to this hotel to enjoy the seafood.